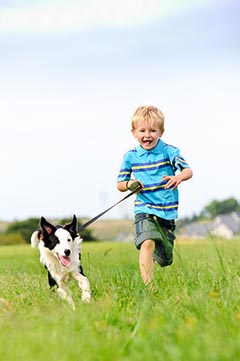 Pet Relocation
Pet Relocation is Our Passion!
Relocating pets is an important service, and thousands of 'pet parents' all over the world need shipping for their dogs, cats, and other animals for different reasons, including a home relocation, a new job, family vacation, attending school, new ownership over the internet from rescue shelters or adoption agencies, and PCS (Permanent Change of Station) for military members.
Planning a pet move can be an overwhelming and time consuming task. Happy Tails Travel specializes in animal transportation by air, and we set the standard in quality pet relocation. We minimize discomfort and stress for both you and your pet. Your peace of mind matters to us.
Many times, your career causes you to shift your home and family to another location or even another country. Of course, you do not want to leave a member of your family behind. There are so many differences between people and pet travel. Let us do the work, and wade through the lengthy, sometimes confusing and frustrating process for you!
Ground Transportation
We now cater to pets that are restricted from, or unable to travel by, airline travel. This includes Giant Breed, Snub Nose, & 'Dangerous Dog Breeds'. In addition, some pet parents prefer private long distance pet transport over airline pet travel. This service is ideal for new puppies coming from breeders as it can be customized to each puppy's unique needs. This popular service is By Ground Safe & Sound.
Happy Tails Travel is your Animal Transportation Professional - Let us help you make your pet's move smooth!
Relocating cats and dogs is a more technical process than you may realize. We specialize in arranging animal freight / animal cargo and provide for your pet's travel safety and comfort from door to door or airport to airport.
At Happy Tails Travel we stay abreast of all the up-to-date travel requirements and documents that could be required for your animal's air transportation. This ensures pet travel will go smoothly and safely!
We will arrange all the necessary documentation to be completed for the entire animal freight/animal cargo process from start to finish.
Pet relocation has a standard set of procedures and regulations that must be followed when shipping pets. We are experts in the field and have the national and international contacts to accomplish the task efficiently and with care.

When shipping pets internationally, import permits may be required as well as special licenses and other legal documentation and we help you with these details.
Happy Tails Travel flies pets throughout the United States and around the world, working with other professional pet agents and agencies every step of the way.
Happy Tails Travel is the most efficient alternative to working directly with the airline industry and a better alternative to your pet's relocation for your peace of mind and your pet's safety. Calling airlines can be time consuming and confusing; each time you call you can receive a different answer.  At Happy Tails Travel we know all of the policies and procedures and the difference between each airline so we can select the best flight for your pet! 
Trust our Experience!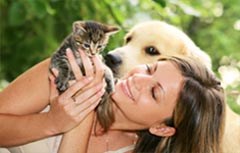 Since Happy Tails Travel was established in 1995, we have been working as a team with the live animal freight, shipping and animal cargo industry. We treat each pet's relocation as if we were moving our own furry four footed family member.
We have the professional experience needed to work with the airline/veterinarian/professional transportation industry. We arrange safe pet transportation daily, and we want your Pet Transportation Experience to be a happy event!
Why you can trust our Experience & Respected Reputation:
We have experience working with Military Pet Relocation due to PCS (Permanent Change of Station).
We have national and international contacts with all the pet transportation related organizations including airlines and professional pet travel agents. We are well aware of the legal formalities, regulations and laws pertaining to import and export of animals to or from other countries.
We regularly attend the IPATA Conference to keep up-to-date on the latest important changes in the industry.
We have a 100% safety record with pet arrivals.
We are experienced working with new pet owners who desire to adopt a pet via the internet or from an out-of-state shelter or adoption agencies.
As a professional pet relocation specialist, Happy Tails Travel makes sure all aspects of a pet relocation are covered even those details you don't even know to think about!
We provide you with detailed and customized flight and prep Info for each of your pets, which will explain to you the entire procedure of animal relocation.
How to get Started with your Pet's Smooth Move
The first step after inquiring about Happy Tails Travel is to talk with one of our Pet Travel Specialists about all of the details of your upcoming move. We will be able to assess your individual needs to customize a plan that works best with you, your pet, and anyone involved with your move. Our goal is peace of mind for you, and safety and comfort for your pet. We strive to give you peace of mind by providing details and answers to all of your question and concerns.
The second step is to provide you an estimate and help you determine the scope of services you need for your pet. The estimate will provide a breakdown of all services for the complete move. This allows us to agree on the proposal prior to hiring us.
The third step is we send you a contract via email that you sign and fax or scan and email back. Once we get the signed contract back, with photo ID, we start the comprehensive service for your VIP pet!
Our service provides a Pet Travel Packet, mailed to the person who will be taking your pet to the airport. It includes:
Detailed Relocation Instructions including flight, crate and documentation requirements
The ticket for your pet, typed up on an AWB (Air Waybill)
Feeding Instruction Stickers
Live Animal Stickers
Airport procedures for pickup and delivery
Crate tag with pet/flight info
Special gift for your pet<
While planning and assisting with your pet travel plan we are available to you, your vet and anyone involved with your pets' move from start to finish by phone or email.
Our service is complete once we hear that the pet has arrived at his/her final destination safely and is Home Sweet Home!
Please visit our pet travel testimonial page to hear from other 'Pet Parents' who have happily hired us!