Pet Rescue and Forever Homes
One unique service Happy Tails Travel can provide is pet rescue. In today's Internet age, a person can fall in love with a pet far from their home who is in a shelter and needs prompt adoption. We have helped unite many pets find Forever Homes this way, without the new pet owner needing to take time off from work to fly to and from the adoption location!
What We Offer:
Arrange for all travel including transport to the vet, airport, and new home.
Research, reserve and provide all airline documentation and booking.
Work with the shelter or veterinarian on all preparation requirements such as veterinarian Health Certificates, crate/supplies, pre-flight conditioning, and both air and ground transportation needs.
Coordinate between client and shelter/veterinarian for timing and logistics of the pet's travel.
An opportunity for a new leash on life.
Lost and Found!
We also provide the same services for clients whose pets have become lost during the moving process, such as running away when the movers were packing up or escaping a hotel room while driving cross-country.
Rescue & Adoption Testimonials
Bridget,

I don't know how to thank you enough for transporting Magnificat from the San Francisco area up here to Oregon. He is such a sweet little guy and Mr. Prince and Miss Marble have really accepted him into our little family.Without your assistance he would have been euthanizedby now just because he was so frightened by a crowded Humane-Society/SPCA facility that they thought he wasn't adoptable! It is heartening to know that your organization can reach out and save a small kitten that the national animal-defense groups cannot.
John Jefferson San Francisco, CA to Portland, OR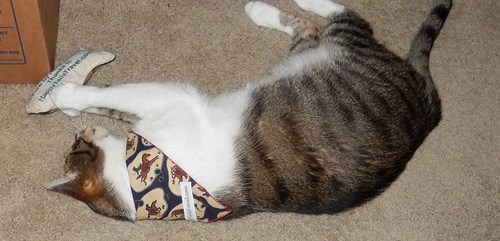 ---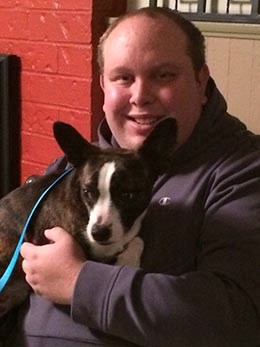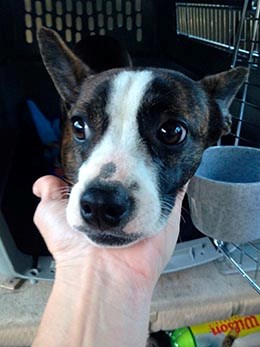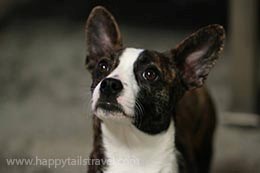 I have been thinking of adopting another dog since our last dog passed away a couple of years ago. The house has always felt empty since then, so I asked my parents what they thought. I wanted their input since I have been living with them since I work full time and go to school full time.
I started to look at local breeders, but nothing really caught my eye. Then I thought what about adoption, so I started to look at Petfinder.com. I searched for Corgi since that's the dog we have had in the passed, it came up with a lot of options. Towards the end of the search I saw Cagney's photo and immediately felt a connection. He was by far one of the cutest looking dogs, and his brindle fur looked very unique. Then I saw that Cagney was located in York South Carolina, at Richardson Rescue.
I decided to show Cagney to my mom and she thought it would be worth a try to see what it would take to get Cagney to Seattle Washington. I called Richardson Rescue and talked with Laura, she was very helpful and would look into travel arrangements for Cagney. Laura called back the next day and said that Cagney was still available for adoption, and that my adoption application was approved, but I would need to find transportation for Cagney.
I told Laura to give me a couple of days so I could research my options. I looked online for pet travel, and one of the first sites that came up was HappyTailsTravel.com. I saw their site had great reviews and they specialized in taking care of the entire travel plans for adopted, family, and military family pets.
I called and asked for a quote and was told that it would be around $1200 plus supplies to fly Cagney to Seattle. I have to admit I was shocked at first at the price but when I thought about it further it made sense, plus not having to worry about making sure everything was arranged correctly for Cagney to travel gave piece of mind. I did look at other companies to see if there was a cheaper option but they only offered either part of a service, and not the complete package. I told them I really wanted Cagney but there was no way that I could afford to have him fly out to Seattle. They said it was Christmas, and that they would cover the cost of the flying out Cagney. I know deep down that my mom wanted Cagney as much as I did, so the next day I called back Happy Tails Travel, and talked with Bridget.
Bridget was very quick about starting the traveling process, and she got in contact with Laura at Richardson Rescue to setup Cagney's travel arrangements. The next day I got a call from Bridget letting me know that she was able to get transport setup from Richardson Rescue to the airport, and also was able to setup all the flight information for Cagney.
Bridget gave a me a detailed list of supplies that I would need to order so that Cagney would be able to fly. I order the supplies that day and had them shipped to Richardson Rescue. Five days later Cagney flew out to Seattle without a hitch and arrived safety. Cagney is an amazing dog, very care free and loving and he will be a great addition to the family. I want to thank Bridget and her team, and also Laura at Richardson Rescue for making this adoption happen!
John Moe
Charlotte NC to Bothell WA
---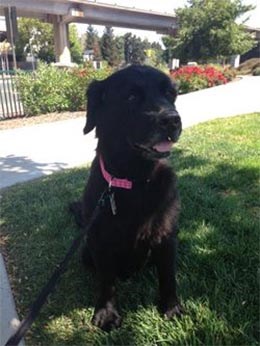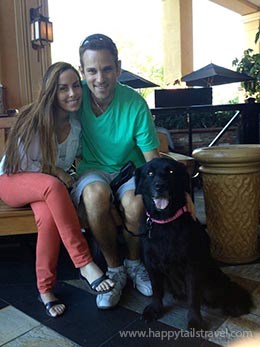 Hi Bridget and Heather! Raylen arrived safe and sound. We re-named her Lucky. She got lots of love/food and then slept through the night on her new doggie bed. Today she got a good grooming and some outdoor time in the sun. We wanted to take her to the beach but it turned out to be 50 degrees/cloudy in SF but 80 degrees in Walnut Creek where we are - so we just spent the day around the downtown area which has lots of dog friendly walking paths and restaurants. She was perfectly behaved the whole time. Right now she is snoring in her new dog bed. We just LOVE her! Thank you so much for everything! Couldn't have done this without you and Heather. Thank you SO much for everything! She is super mellow and just flows well with us. Thank you so much for everything! We could not have done without you and Heather and are so grateful for your help.
Sarah Strong-Adams
Charlotte NC to Walnut Creek CA
---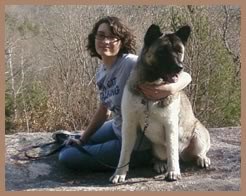 Thank you for your very compassionate and professional approach to getting our newly adopted, Lucy, to her new home in Maine. You saved both Lucy, the Akita rescue, and our family a great deal of stress getting to the east coast safe and sound. When Lucy arrived in Boston she bounded out of her crate, and although tired and confused, she met my husband with great enthusiasm. She loved the car ride home and is really enjoying her new home in Maine.
I actually can't wait for our first snowstorm so we can introduce her to her first east coast winter. She's going to love having that thick winter Akita coat!! Thanks again for your great service. I will recommend you to anyone I know.
Kay K.
La Jolla, CA to Cape Elizabeth, ME
---
Our Dog Has Arrived!! Thank you for all your help getting Gemma to us. Here are some great pictures of Bassa, whom we now call "Gemma" (she is such a little jewel!). A week after her arrival, she is now very comfortable with all of us and really having a great time taking long walks and picking my son up from school, and even going to work with me sometimes.
We were very worried, as we had adopted her out-of-state and had never flown one of our pets before. It was very important to us that she arrive safe and not stressed, as she had never even met us! There was also concern about airline policies and temperature, as it had been very cold in the Northeast where she was going. But everything ran smoothly as could be. Her flight was even 10 minutes early. When we got her home, after a long day of travel, she slept through the night, just like a perfect baby. I felt so much better about the whole thing for having hired Happy Tails, and I'm sure Gemma did too. I would do it again in a heartbeat.
Thanks again,

Erica H.
Luther, OK to Sag Harbor, NY
---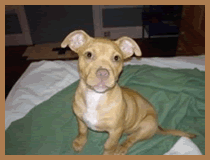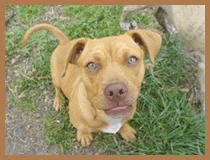 We wanted to update you on Joy,
the little pit bull you helped us rescue from LA County Animal Control.
She's doing wonderfully! We all love her sooo much, she's really a part of our family. She sleeps with one of us almost everynight and she even does well in her crate now that she knows we'll always be there for her and we won't leave her. Hopefully she'll be starting obedience classes very soon which should be fun for her and us! Thank you so much for all your help, she couldn't have gotten here so safe and sound without your help. PS: We love the name you gave her, as it fits her perfectly!
Sincerely,
The Sullivans
Los Angeles, CA to Boneville, GA
---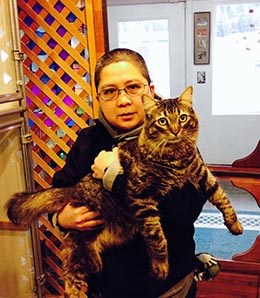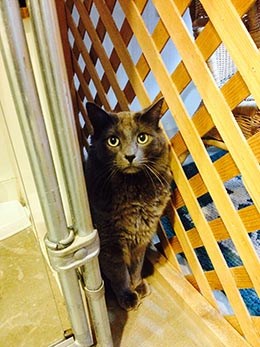 I would like to thank everyone who made possible for the rescue and transport of my cousins pet cats "Yoda" and "Hank" I am moved beyond words, and with a grateful heart, I will always remember the help of Happy Tails Travel Inc regarding my case.I wouldn't have done it myself and appreciated the compassion, dedication and concern of this company regarding the retrieval of a relatives pet from a shelter in California. Happy Tails Travel was a force beyond my best greatest expectations that paved way for the retrieval of these poor cats. I wish your company all success and prosperity and more power to the business! As the saying goes to be kind to Gods littlest creature God will bless you more for that, to Ashley, Laurel, and Ma'am Bridget Monrad who helped me a lot thank you so much. May the blessings of St. Frances for animals bring prosperity and peace to your families, and Happy Tails Travel Inc. and each and every animal you bring forth safe and sound. Yoda and Hank are at last is here with me in Alaska, enjoying winter. Happy new year and thank you!
Gladys Castanos
Shelter in Chatsworth CA to Juneau AK
---
Hi Bridget,
Just wanted you to know how pleased I was with the service I received for my two darlings Ava and Katie whom I adopted long distance from the Habersham County Animal Shelter.
From the moment I first talked with you I got a very comfortable feeling with you and I could tell how much that providing safe and comfortable travel for my newly adopted babies meant to you. You were so genuine and caring and to me, having the feeling of confidence in you meant everything! The arrangements were perfect and the cats and I survived the rainy trip back from San Francisco to Fremont. Katie is adjusting well and Ava I think just needs some time.
Attached is a picture of Katie who has already assumed her position as Queen of the Couch.
Thanks again for a great service. Should I ever need pet travel service again, I won't hesitate to call or to recommend you to someone else.
Don Frascinella
Clarksville GA Habersham County Animal Shelter to Fremont CA
---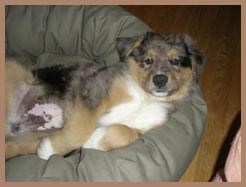 I am still amazed that this all came together as smoothly as it did. From the time I made the decision to adopt this pup sight unseen on Thursday until he was at my door on Saturday evening, Bridget was with me every step of the way.
As I had never done a virtual adoption before, I was very anxious and way out of my comfort zone. Not to mention the travel from the shelter in rural TN to San Francisco was no easy task. Bridget was absolutely wonderful, compassionate, and patient with me. And even though we didn't even know if anyone could be found to get him to the airport for his flight until the night before, she remained calm and was ready to make other arrangements if need be. I would not hesitate to recommend her to anyone who needed to make this stressful decision because Bridget takes all the worry out of it. And although I'm sleep deprived, I'm beyond grateful for the new light in my life, who still remains nameless!
Tara H.
Camden, TN to San Francisco
---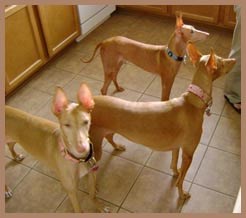 Many thanks to you for your great service and attention to detail.
Philip came to us without a hitch! He has quickly settled in to his new home and seems quite happy with his new friends! I wanted Philip's trip to be smooth and easy for him and I didn't have time to prepare, not only his flight arrangements, but the arrangements to have him driven from where he was being housed to the airport. We made a call to Bridget, and she was in frequent contact with the people who worked at the facility where he was being housed, rearranged his flight when she heard the Houston airport was to be closed due to weather and even had a nice little toy and bandanna as a gift for Philip, when he arrived!
The whole arrangement worked out flawlessly and was more service had I anticipated. Bridget is a pet's best travel resource!
With tons of gratitude,
David, Kristy, Ona, Nuru & Philip
Hudson, FL to Sahuarita, AZ
---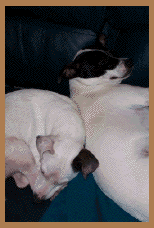 I just wanted to thank you again for helping to bring Curly Q into my life. She and my older Jack Russell, Wiley, have become great playmates and friends. She is happy, healthy, and very friendly. I named her Curly Q because of her curly tail. She seemed to respond to the name more than to "Brianna" which was the name the shelter had given her.
It is a wonderful travel service you provide for pets! I couldn't have adopted her with out you. She is a complete joy!
Thank You,
Jeannette P.
GA to NY