Why Happy Tails Travel is the Best for Pet Ground Transportation
---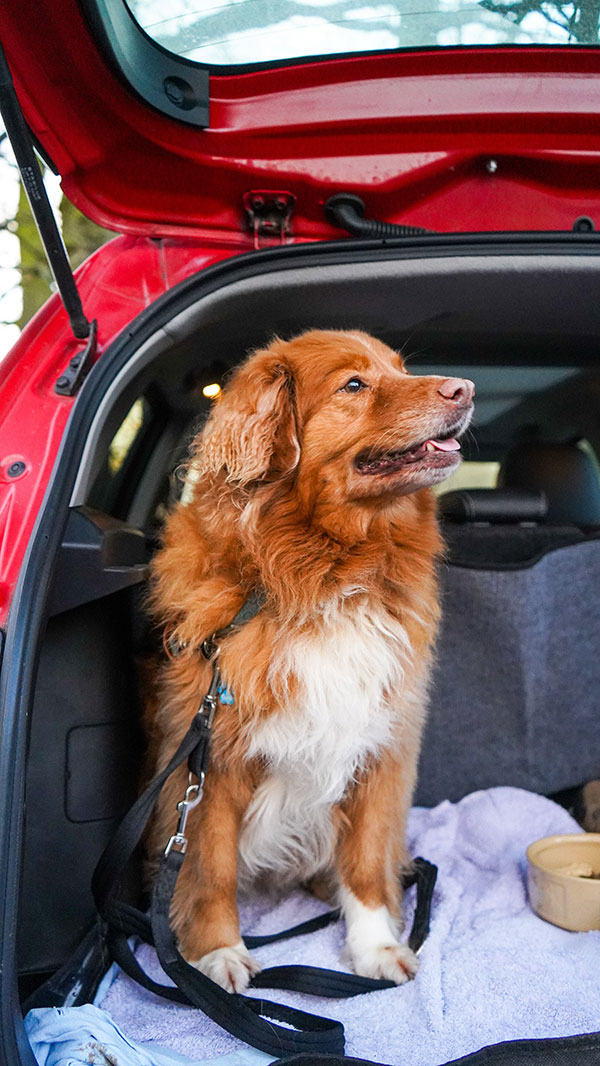 For the past two years, there has been a dramatic change in airline regulations for pets which resulted in Happy Tails Travel offering long distance pet ground transportation within the contiguous United States for dogs and cats. This service is in high demand as the airline restrictions for Live Animal travel have only grown stricter within the past year. Such restrictions include factors focusing on pet breeds, pet sizes, and the temperatures at which pets can fly. Therefore, our By Ground Safe and Sound program seeks to alleviate many issues pet families are facing when needing to transport their fur babies within the United States.
Happy Tails Travel strives to provide the best service in the industry. As pet parents' who hire a person to travel with their pets on a flight in the cabin, we offer a service to have a professional driver accompany their pet by ground, also called a Pet Nanny Ground Transporter. As we are not the only company who has turned to offering pet ground relocation, we wanted to share with you some of the features which make our By Ground Safe and Sound program unique, and what services truly make us the best in the industry.
Our Professional Pet Nanny Drivers
We hire and manage a select team of professional pet drivers based across the country. Having experienced pet ground transporters based in various cities ensures timeliness of pick-up and service to most locations. Before a Pet Nanny Ground Transporter is hired, we conduct a series of interviews, share with them the job requirements and performance standards, and perform background checks. Our drivers are hired based on upholding high standards and compliance with quality checks. Our professional drivers receive a driver handbook, are skilled, devoted, and well-trained by members in our office and other drivers. For our private Pet Nanny transports, our drivers use their personal SUVs, Mini Vans, or Cargo Vans for driving pets throughout the country. This ensures your pet has enough space to lay down and stretch out and travel with their favorite belongings; we do not pack our vehicles floor to ceiling with travel crates like many other companies do.
Our Pet Travel Specialists, and the driver, will call the pet owner prior to pick-up to review transport needs and route. Our professional, experienced drivers spend about 8-12 hours on the road each day and are required to stay in pet-friendly hotels overnight with your pet(s) in the room with them. If needed, we can offer team drivers, using either multiple vehicles or just have an additional handler to help care for pets while in route; this is ideal for large pet families and gives you truly personalized service.
Pricing
When hiring any service, potential clients are often most interested in pricing. Many clients seek ground transportation feeling that it is a less expensive alternative to air travel. Often this is not the case, as our pet ground transport is based on mileage and/or timing and airfare is based on your pet's weight in their crate. However, pet ground transport is more personalized, and your dogs and cats have more freedom along the way with their Pet Nanny professional.
Our pet ground transport pricing is all-inclusive. This means that should you select to work with us, the price you are quoted will include the transport, walks, feeding, administering prescribed medications, overnight hotel stays, and transportation of your pet's belongings. Many other companies may appear less expensive as they will only quote for the transport itself and then charge for every additional service. Our pricing also includes a full-time ground transport coordinator dedicated to coordinating and tracking your pets during their journey. You will receive updates along the way with where your pets are, how they are doing, and expected times of arrival.
To begin working with us, we will send you a one-page contract, which is simple and easy to understand; there is no fine print and no hidden fees. The payment for our services is taken in two parts. The first half is taken upon receipt of your signed contract. The second half of your payment is taken about a day or two after safe delivery of your pet(s).
Experience during the Journey
Our By Ground Safe and Sound Program is full door-to-door service. We will pick up your dog(s) and/or cat(s) wherever you desire and will also drop them off at a location of your choosing; this is included in your total price. Each pet is transported in heated/air-conditioned vehicles. Most of our Pet Nanny transports are private transport; pet(s) are not exposed to other pets/people, just your assigned driver. The only exception to this would be if a ride share is offered and agreed upon by both pet families. Ride share opportunities may be available if the route and timing of multiple pet families match and all parties agree to participate.
When your pet is picked up for relocation, you will fill out an intake form to ensure the proper customized care of your pet throughout the journey. This form will tell us how often your pet needs to be fed, walked, and if they have any personality traits that we should be aware of or sensitivity to external factors such as other animals or storms. Our friendly driver will bond with your pet prior to beginning the drive, and they will continue to talk and play with your pet during the trip. Many of our pet friendly drivers even sleep in the same bed with the pets during overnight hotel stays! Our drivers, and your personal pet transport specialist, will communicate with you during transport, including sending texts, photos, and location updates each day.
Dogs are walked every 2-4 hours, or as preferred by the pet owner. Pet owners can choose whether their dog(s) travels in a crate, with a seatbelt harness, or loose on their bedding. During the road trip, your pet(s) will be fed, given water, and are able to bring their favorite toys along for the ride! Any overnight stays take place in pet-friendly hotels with your assigned pet driver. For trips exceeding 13 hours, we require that our drivers take a nightly break to rest and stay in a hotel so that they are well rested, and your pets have a chance to roam around outside of their crate or the vehicle.
Benefits of Happy Tails Travel's by Ground Safe and Sound Service
As most of our pet transports are private, it allows for more customized pick-up and delivery. Our service is all-inclusive service with no hidden fees. Many other companies will charge a flat rate for the drive, but add additional fees for walks, feeding, overnight stays, or medication administration.
Pet ground transportation service is a great alternative to the increasing air travel restrictions. Not only do you not have to rely on a particular flight route, but we accept all dog and cat breeds, regardless of size and age. Unlike flying, your pets are with a professional driver and monitored 24/7. Pet ground relocation is a turnkey service with fewer 'moving pieces' than air travel. Ground service is also especially helpful for pets traveling to and from rural areas with limited airport service. Some pets who fly require additional service to be driven to and from the airports, so in these cases door-to-door ground service can often be cheaper than air travel, especially with multiple pets. As your pets have private use of a vehicle, they are also welcomed to take most of their personal belongings along with them! Lastly, unlike air travel, no veterinarian health certificates are required for ground relocation unless it is a specialized situation.
As opposed to other ground companies, we limit how many pets are accommodated per vehicle. This allows for customized care, created toward your preference and the lifestyles of your pets, and ensures plenty of room in the vehicle. As our pricing is based on the number of vehicles and handlers needed to take care of your pets, ground service becomes a great option financially for families with multiple pets as it is not priced per pet!
During transport, dogs have the option of riding in a crate or with a seatbelt harness or loose, whereas many other companies will pack cargo vans floor to ceiling with crates to accommodate as many pets as possible. If desired, Happy Tails Travel can help you purchase a suitable travel crate for your dogs' journey, and we can provide cat castles (travel crates) for cats during transport. Ride share options may be available if we have pets traveling along the same route, at the same time, and both pet families agree. Should it be available, ride share is a great option to help reduce costs.
Not only does Happy Tails Travel offer one-way ground relocation, but we can provide round-trip service should you just want to have your pet join you on vacation or if you are only temporarily relocating.
Credentials of Happy Tails Travel
Happy Tails Travel offers ground relocation services for cats and dogs, and we have years of experience as a professional pet transporter for airline travel as well. We have been in business since 1995 and have been a member of IPATA (International Pet and Animal Transport Association) since 1996. After many airlines imposed new restrictions to pet travel in March of 2018, we were one of the first companies to offer long distance ground transport as an alternative method of transportation.
We are an accredited A+ member of the BBB. We are highly rated on all our review sites, including a 4.8 Star rating on Facebook, 4.5 Star rating on Yelp, and 4 Star rating on Google. We have testimonial pages on our website dedicated to air relocation, ground relocation, and assisting military members, where you can hear firsthand accounts from previous clients. We also have loyal repeat clients who use us each time they must relocate!
Summary
At Happy Tails Travel we are proud to offer our By Ground Safe and Sound travel service and are ecstatic by the positive response we have received since starting it. As with any of the services we offer, the safety and comfort of your pet family member is our number one priority with their private Pet Nanny. If you have any questions about the services we offer, or want to get started on your pet's relocation, contact us today by filling out our Pet Travel Form on our website!
We look forward to working with you to provide a safe and enjoyable transportation for your pet and peace of mind to you.